Want to make
huge savings

on your

energy bills

?

Renewable heating is no longer the alternative choice, it's now the only choice if you are serious about an efficient, reliable, cost effective heating solution for your home that can help save up to 70% on your existing energy bills.
The
Renewables

Specialists

Based in Co. Limerick and certified by both the SEAI and RGI Horgan Renewables specialise in supplying, installing and servicing Solar Hot Water systems, Air to Water Heat Pumps and Underfloor Heating. We work with homeowners and commercial clients with our team operating across counties Limerick, Cork, Kerry, Clare and Tipperary.
Solar panels are the most affordable form of alternative energy and with zero running costs they will greatly reduce your homes energy bills. They ensure that you always have hot water on tap while reducing your homes carbon emissions and increasing your homes BER and in turn the value of your home. Learn More…
Horgan Renewables are authorised suppliers and installers of Mitsubishi's Award Winning range of air to water heat pumps. The revolutionary Ecodan system uses the outside air transferring it inside the home to heat radiators or underfloor systems and provide hot water, even if at temperatures as low as -20°C. Learn More…
Maintenance free underfloor heating can help to cut your household heating bill in half. Radiant underfloor heating ensures that heat is evenly distributed throughout a room and building. It's safe, silent and invisible with no floor space taken up by bulky radiators and with no air circulation it prevents dust buildup. Learn More…
Want a draught free, energy efficient home that's also healthy and well-ventilated? Our Heat Recovery Ventilation systems offer the perfect solution by taking fresh air into your home without letting any heat escape. Learn More…
Did you know that you can reduce energy usage by up to 20% by upgraing the heating controls in your home. You can even get a grant from the SEAI Better Energy Homes scheme to help cover the cost of this work. Learn More…
Why
Renewable 

Energy?

Renewable Energy has a wide range of benefits that make it the obvious choice for any new builds, renovations or upgrades including: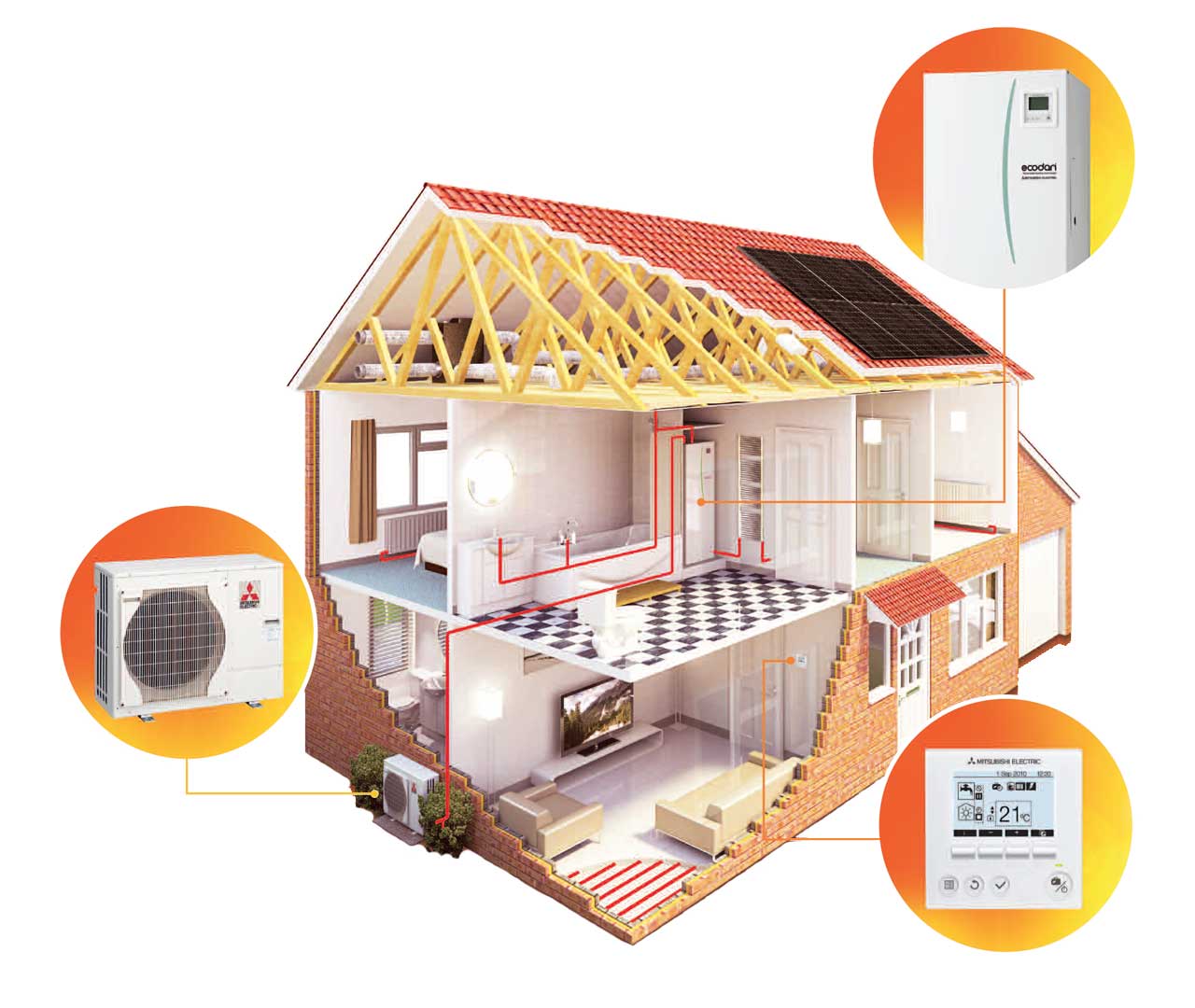 Save Money
Everyone loves to save money and renewable energy provides the opportunity to make big savings over more traditional energy options.

More Efficient
Using Renewable energy will significantly increase your homes energy efficiency leading to an increased BER rating which will see your home rise in value.

Greener Energy
Renewable energy is clean energy and will greatly lower your carbon footprint meaning that it's much better for you and your local environment.
Why
Horgan Renewables

?

The Horgan family have been supplying, installing and servicing heating and plumbing systems for domestic households and commercial businesses since Con Horgan started the business in the 70's. Now his sons Pat and Donal have continued the family tradition while ensuring that they are constantly keeping abreast of new developments in the industry as new technology allows for greener, cleaner and more cost effective forms of renewable energy. Over 35 years in business the Horgan's have built a reputation for being experts in their field while providing outstanding customer service, but don't just take our word for it…
At Kostal Ireland we have worked with Horgan's for over a quarter of a century and have always been very happy with the quality and efficiency of their service. I would have no hesitation recommending them.
Pat Houlihan, KOSTAL Ireland GmbH
I got to know of Horgan Renewables through my work in Accord, Newcastle West. They did all the work in the church and the Accord Centre. They have an excellent reputation for doing quality work. We were having problems with our boilers and the heating system in the school for months getting air locked etc. I invited them to carry out an examination of our heating system and they solved our problems in a couple hours. That was over 3 years ago and the heating system was never going as well. I can recommend Horgan Renewables without reservation.
John O' Donovan Principal, St. Joseph's Secondary School, Ballybunion, Co. Kerry,
When we saw the cost savings over traditional heating systems we made the decision to go with with renewables for our new house. Horgan Renewables installed an air to water heat pump and underfloor heating with a heat recovery ventilation system and we were very happy with the work. With the savings we've made it was really a no brainer.
Philip Enright, Homeowner, Co. Cork
Horgan Renewables installed an underfloor heating system and air to water heat pump for us last winter. We were very pleased with the work. The system provides a lovely, natural warmth and has definitely saved us money on our heating bills.
James Daly, Homeowner, Co. Limerick
As a busy B&B having a warm house, hot water on demand while being cost effective is vital for us. Horgan Renewables did a retrofit of the building installing an air to water heat pump and a new cylinder. At any time we could have up to 14 guests requiring hot water for showers etc and since the retrofit we never have an issue and our hot water costs less than a euro per day. In fact some of our guests have even commented on the natural, comfortable heat throughout the house on our radiators and it has really helped to make things extra cosy for them.
Knight's Haven B&B, Glin, Co. Limerick
I was skeptical about solar panels given we don't see the sun too often but since the lads from Horgan's installed it I'm definitely a convert. Having hot water on demand makes such a difference and we have noticed the benefits in our pockets too!
Margaret McCarthy, Homeowner, Co. Kerry